The year 2019 will remain in the books of history in numerous ways. Some may argue that it's the year they marked career growth, others are grateful for a successful business venture. Another exciting year of breaking barriers and building bridges. But to us in Rotary, 2019 remains special to our hearts since in 2019, we inched closer to achieving a dream that was conceived about 100 years ago- eradicating polio from the face of the earth; through your gifts and donations.
Thanks to the efforts of Rotary and its partners, more than 16 million people who otherwise might have been paralyzed are walking today. In all, more than 2.5 billion children have been vaccinated since 1988.
On 24th October 2019, World Polio Day, an independent commission of experts concluded that wild poliovirus type 3 (WPV3) had been eradicated worldwide. Following the eradication of smallpox and wild poliovirus type 2, this news represented a historic achievement for humanity.
"… The achievement of polio eradication will be a milestone for global health. We remain fully committed to ensuring all necessary resources are made available to eradicate all poliovirus strains. We urge all our other stakeholders and partners to also stay the course until final success is achieved…" Dr Tedros Adhanom Ghebreyesus, Chair of the Global Polio Eradication Initiative (GPEI) Polio Oversight Board and Director-General of the World Health Organization.
There are three individual and immunologically-distinct wild poliovirus strains: wild poliovirus type 1 (WPV1), wild poliovirus type 2 (WPV2) and wild poliovirus type 3 (WPV3). Symptomatically, all three strains are identical, in that they cause irreversible paralysis or even death. But there are genetic and virologic differences which make these three strains three separate viruses that must each be eradicated individually.
"… Wild poliovirus type 3 is globally eradicated. This is a significant achievement that should reinvigorate the eradication process and provides motivation for the final step – the eradication of wild poliovirus type 1. We cannot stop our efforts now: we must eradicate all remaining strains of all polioviruses…" Professor David Salisbury, Chair of the Independent Global Commission for the Certification of Poliomyelitis Eradication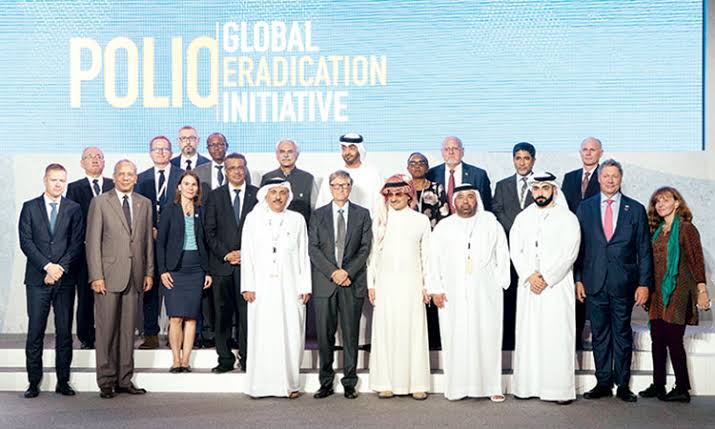 Eradicating WPV3 proves that a polio-free world is achievable. Key to success will be the ongoing commitment of the international development community. To this effect, on 19 November, 2019 in Abu Dhabi, global leaders convened at the Reaching the Last Mile (RLM) Forum in Abu Dhabi to affirm their commitment to eradicate polio and pledge US$2.6 billion as part of the first phase of the funding needed to implement the Global Polio Eradication Initiative's Polio Endgame Strategy 2019-2023.
Additionally, Nigeria – the last country in Africa to have cases of wild polio – has not seen wild polio since 2016 and the entire WHO African region could be certified wild polio-free in 2020. Thanks to the dedicated efforts of health workers, governments, donors and partners, wild polio only circulates in two countries: Pakistan and Afghanistan.
"…From supporting one of the world's largest health workforces, to reaching every last child with vaccines, the Global Polio Eradication Initiative is not only moving us closer to a polio-free world, it's also building essential health infrastructure to address a range of other health needs…" Dr Tedros Adhanom Ghebreyesus, Director-General of the World Health Organization and Chair of the Polio Oversight Board.
The commitments come at a critical time for the polio eradication effort. Barriers to reaching every child – including inconsistent campaign quality, insecurity, conflict, massive mobile populations, and, in some instances, parental refusal to the vaccine – have led to ongoing transmission of the wild poliovirus in Pakistan and Afghanistan.
See Also

Further, low immunity to the virus in parts of Africa and Asia where not all children are vaccinated has sparked outbreaks of a rare form of the virus. To surmount these obstacles and protect 450 million children from polio every year, governments and donors announced significant new financial commitments toward the $3.27 billion needed to support the Polio Endgame Strategy.
In addition to overcoming barriers to reach every child, this funding will ensure the resources and infrastructure built by the GPEI can support other health needs today and in the future. Polio workers deliver Vitamin A supplements, provide other vaccines like those for measles and yellow fever, counsel new mothers on breastfeeding, and strengthen disease surveillance systems to anticipate and respond to outbreaks. As part of its commitment to advance gender equality and women's empowerment, the GPEI is also working to ensure equal participation of women at all levels of the program.
The future of polio eradication hinges on support and engagement at all levels of the program – from individuals to communities to local and national governments to donors. If the strategies needed to reach and vaccinate children are fully implemented and funded, we are confident that we can deliver a world where no child lives in fear of polio.
So, this New Year, Join us in the fight to end polio and help us save lives and give a child a chance at a prosperous future.
To Donate; click on https://www.endpolio.org/donate
Article by Steve Maina – Rotaract Club of Nairobi Central