RUMINATING on Rotary and vocations!
January is Vocational Service Month which highlights the importance of a business and a professional life of each Rotarian. As a Rotarian, I have encountered immense opportunities to interact with Rotarians in different professions and different platforms. This has not only given me an opportunity to learn many different things but also, share my knowledge and skills too.
So, this is my story.
I joined Rotary in the year 2016 yet I had interacted with Rotarians for more than a decade before joining. As a Social worker, working in different vulnerable communities, my first encounter with Rotary was when I was working for an organization that was spearheading HIV AIDS mainstreaming in the Prisons Department. I was charged with the responsibility of overseeing the Project and at that time, piloted the project in Kamiti Maximum Prison and Lang'ata Women's Prisons.
Once successful, we replicated the project in 14 other Prisons, working closely with the AIDS Control Unit at the Prisons Headquarters. As part of this project, we went to Kisumu and there I met and interacted with other organizations coming to learn about mainstreaming HIV AIDS in a complex government institution, like the Prisons. This was in the early 2000's. Among the organizations I interacted with, one had been funded and heavily supported by a local Rotary Club and I admired how this partnership worked.
Now being in Rotary, I can only imagine that this was a Global Grant program based on the width and depth of the program.
There were many encounters, however, one of the most outstanding encounter that greatly inspired me to join Rotary was in 2015, when Rotarians again visited an organization I was working for in Kibera Slum, Nairobi and offered legal aid services to the community. They worked with them tirelessly throughout the day and beyond, as they helped the community members be more informed on various legal issues. The community benefited a great deal and I bet they too did benefit as this gave them a golden opportunity to refresh their skills and be in touch with some of the most vulnerable members of society.
I observed how they interacted with community members and the genuine compassion and passion that they put into what they did, not to mention the professionalism that they demonstrated. They could consult each other on different issues and their follow up on some of the issues they handled was admirable. By the end of the day I knew I wanted to be a Rotarian.
A spark had been ignited in me.
As we get into the vocational Service month, we are encouraged as clubs to provide interesting and homemade opportunities to show case and amplify the importance of business and professional life of Rotary family members. Clubs could do this by issuing Vocational Awards to outstanding individuals and arrange for vocational visits; they could also explore the possibility of holding career guidance sessions for students and youth among others.
In our quest to serve communities in different capacities this month, we are encouraged to pay more attention to the interlinking of communities, as Rotarians, and using our professional and business vocations in that same service. Rotary has millions of people volunteering their many hours to serve communities and therefore, there can never be a greater platform that amplifies different professions at play and the beauty that comes from such synergy.
I cannot fail to mention that as we flip on to a new year and another new decade, The Rotary Foundation is grateful for the support and service that Rotarians and friends of Rotary have continued to accord it this far.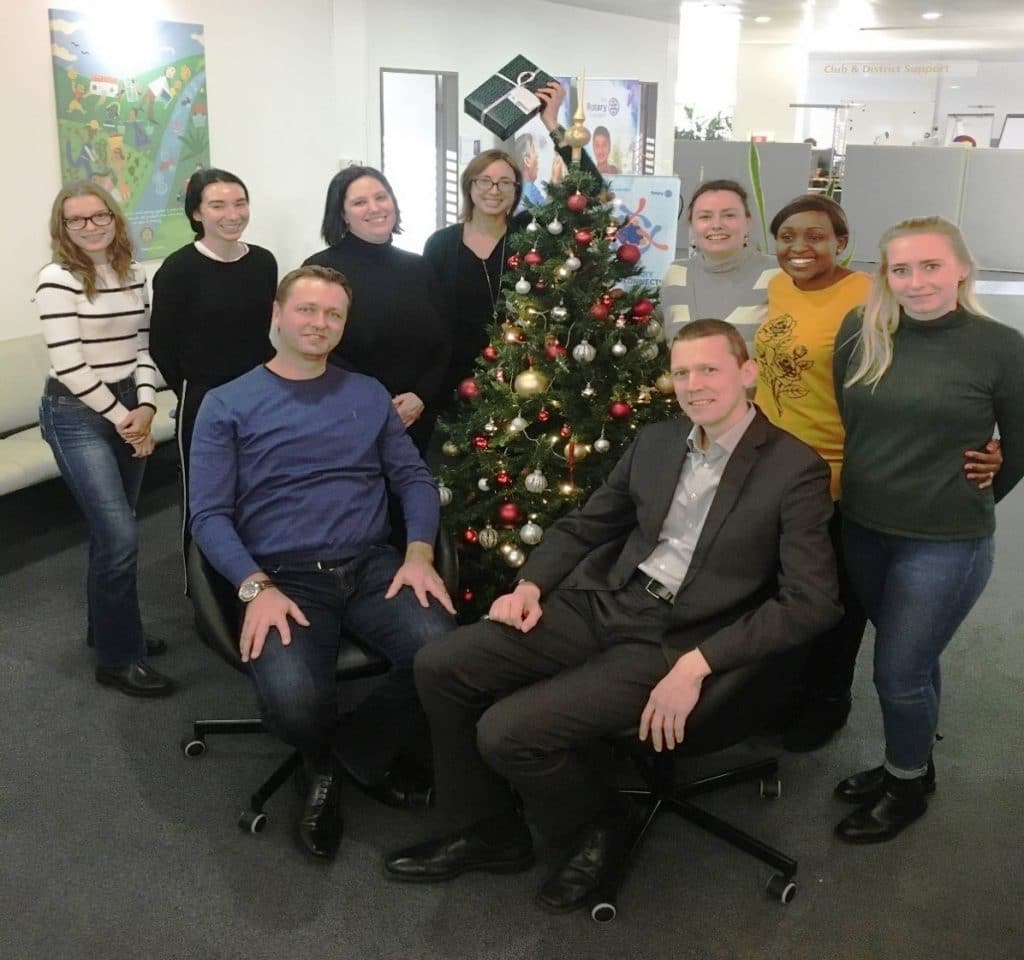 From Rotary International, we wish you a Happy New Year!
Article by Elizabeth Ng'ang'a – Fund Development Specialist | Foundation Services ROTARY INTERNATIONAL