WINGS of Love by Rotary Club of Murang'a

Hundreds of children aged below four years live with their mothers in Kenya's prisons, which are generally faced with, congestion, unhygienic conditions among many other problems. This is despite the fact that prisons are not safe places for pregnant women, babies and young children.
In India for example, children as old as 15 years have reportedly remained in prison with their parents, because nobody is willing to collect them. Other countries like Norway however, do not allow children of any age to live in prison. In Costa Rica, children are allowed to live with their mothers for the first three years of their lives. In Mexico, children can stay with their mothers until they are 6 years old. In Afghanistan, a child can famously languish in prison with her mother until she turns 18 years. Roughly half the countries in the world allow mothers serving a sentence to live with their children, if only for a few months. This is according to a 2014 Library of Congress Report
Of the 361 children, 80 are with their mothers at the Lang'ata Women's Prison. These children found their way into these prisons simply because their mothers were imprisoned, and that it was not advisable to separate them from their mothers.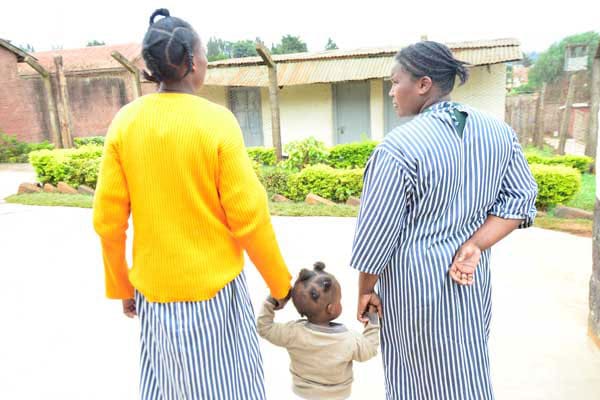 When a mother is imprisoned, her young children may go into prison with her or be separated from her and left at home.
Both situations can put the child at risk. Experts say that children of incarcerated parents are six times more likely than other youth to land in prison at some point in their own lives, and the situation may be worse for the children living with their incarcerated mothers in prison.
It's the same script, different cast, at the Muranga Women's Minimum Prison where the children under the age of 4 are guests of the state courtesy of their mothers who have been convicted of various crimes.
The walls are decorated with motifs arousing dreams of freedom, the cupboards are full of toys, the crèche nannies hearts are bursting with love. From the pint-sized toilets to the colorful bedrooms and backyard filled with overturned tricycles, there's no question children live here
The Rotary Club of Murang'a is intent of giving these children a sense of normalcy despite their confinement, so that they can overcome their unfortunate start in life.
The Rotarians worked with the prison's Officer-in-charge Esther Kibet to transform the assigned space into a conducive learning environment that the children love to spend time in.
There is still a lot to be done to support the prisons department and help the incarcerated get a second chance in life. The Rotary Club aims to secure a district grant to implement the next set of improvements. #PeopleofAction