RESTORING dignity with re-usable sanitary towels: A Rotary women empowerment project

In most rural areas in Africa, menstrual period management is unaffordable and it remains a huge invalidating stigma with deep socio-economic consequences. Commercial sanitary towels are inaccessible for a majority of women and girls. This has caused a significant number of them to miss an average of 6 days every moment, from school or work, to avoid the embarrassment and stigma associated with their menstruation.
A recent survey released by AMREF Health Africa paints a disturbing picture; 1 in every 10 girls will miss school during menstruation each year. Just imagine!
Just a decade ago, there was little discussion of the challenges girls in sub-Saharan Africa faced with their menstruation. In recent years, a groundswell of attention by non-profits, development organizations and governments means there is a growing consensus: girls should have access to the products they need without shame or secrecy. Many girls in Kenya miss school at the time of menstrual period as they cannot afford to buy disposable commercially available towels. Lack of affordable sanitary towels has led to embarrassing moments for some girls that leave them stigmatized and with reduced self esteem for the rest of their life.
Communities perpetuate taboos and misconceptions about menstruation that restrict girls' mobility and activity, for example, the belief that menstruating women are polluted and can contaminate goats and cows if they enter the pen or milk the animals.
Things are getting out of hand.
On Friday, the 6th September 2019, a 14-year-old girl at Kabiangek Primary School in Konoin Constituency received her periods in class and she had nothing to use as a sanitary towel. As humiliating as this would be, her teacher told her to stand outside the class for "soiling her dress". She got scared. Embarrassed. The girl left school at 10am, picked a container to go fetch water but did not return. Later in the afternoon, her school mates found her hanging from a nearby tree.
If all girls/ women undergo menstruation, why would one feel humiliated to the point of taking their own life?
In 2004, Kenya was the first country in the world to abolish taxation on menstrual hygiene products. Unfortunately, 65% of Kenyan women cannot still afford the monthly cost of sanitary towels. Further, the Kenyan Ministry of Education implemented the Sanitary Towels Program in 2012, a program that foresees the future of free sanitary towels in public schools, but still 1 million teenagers lose up to 6 weeks of school per year because of menstruation.
So what can be done to curb this?
It is against this background that the Rotary Club of Nakuru together with the Nakuru Hospice and the Davis Sunrise Rotary Club in the US have used a district grant of Kes. 1,000,000 to establish a manufacturing unit for washable sanitary towels that last up to 4 years. In the first year they aim to distribute sanitary towels to 1,000 girls as the initial step.
The manufacturing unit is run by women's groups and cancer survivors who are learning new skills and uplifting the girls in their communities. The local women gain new skills as they learn how to manufacture the washable sanitary towels. The manufacturing unit uses a straight-forward process to keep the costs low and efficient. After production, each girl receives a backpack containing 4 washable sanitary towels, panties, towels and soaps. Over 600 underprivileged girls so far have received the backpacks.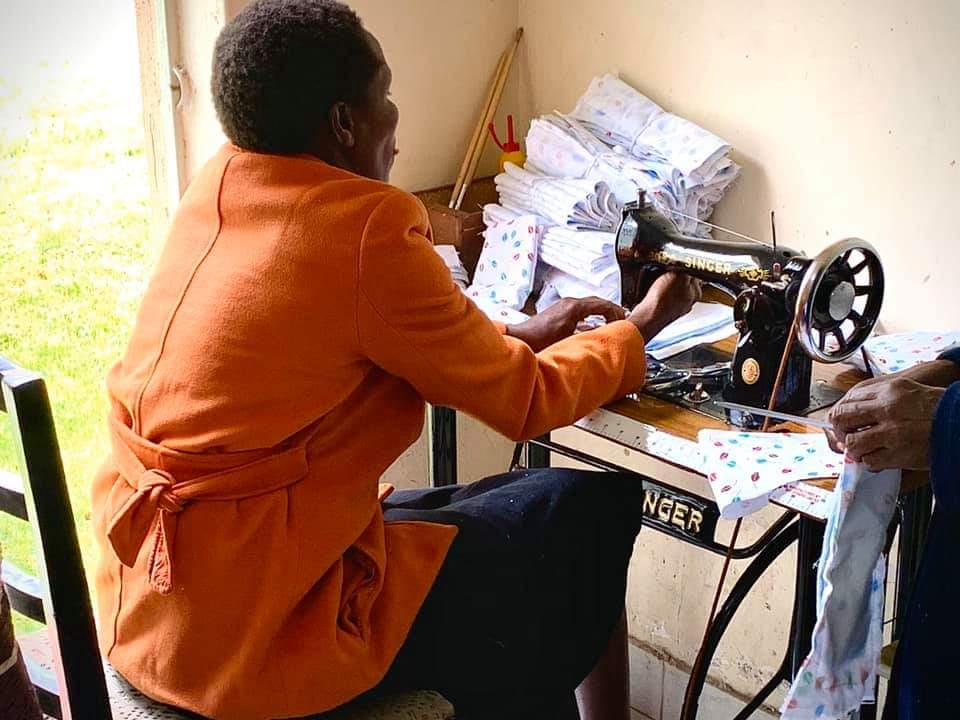 Objectives
By training the women in sanitary towel production and supply of re-usable pads the project hopes to provide access to affordable, hygienic and high quality sanitary towels while at the same time provide a livelihood for the women in the community.
Key activities undertaken
1. Identified three women groups who are involved in pads production who signed MoU with us.
2. The women were supplied with sewing machines and materials for sanitary towel production.
3. A trainer was identified who has greatly assisted in training and supervision of the women in pads production.
We are in the process of developing a business model that will ensure continued sanitary towel production and providing income to the women.
So far we have distributed over 2000 pads to needy girls in 10 schools. We have produced 2000 more pieces to be distributed in January 2020 to more girls and women. The response by some of the students has been overwhelming, recently during the form four KCSE exams one of our team members was called in for supply of sanitary towels when one of the students was affected by leaking flow. The students were quite appreciative by our fast response.
Beneficiaries
The women and girls of Nakuru County are the primary beneficiaries.
The women as well as their families and communities will also benefit from a sustainable fund from production and sale of re usable sanitary towels.
The skills acquired in sanitary towel production may be propagated to other communities and hence this will benefit many nationally.
Project Details
The project is carried out in Njoro sub-county and Nakuru west sub counties of Nakuru County.
Three women groups identified are;

Nakuru Hospice in Nakuru town

Soar Kenya Widows Self-Help Group, Barut region and

Catholic Women's Association of St Dennis, Piave
Organizational structure
The project will be jointly implemented by the Rotary Clubs of Davis Sunrise USA and Nakuru Kenya.
Davis Sunrise. Rotary supervisory team: USA – David COPP; Kenya – Pamela Tsimbiri Fedha
International team: David Copp , Meaghan Likes, Patricia C Inouye, Susan Moenga Hide.
Local leadership team: Pamela Tsimbiri, Elizabeth Njuguna, James Yegon, Doris Bota,
Together, let us create a world where NO girl is left behind because of her menstruation.
Article by Dr. Tsimbiri P. Fedha – Obstetrician and Gynecologist, Reproductive Health Department