REFLECTING On The Rotaract Africa Summit

You wouldn't know how it changes you until it's at your doorstep! It was a year ago, when the Past District Rotaract Representative Mwombeki shared the news of Rotaract Africa Summit with me. I was unaware of it's happening as it was right after my first District Conference and Assembly experience in 2018. Although, the summit intrigued me; I wasn't able to attend it in Zanzibar.
Fortunately, the DRR and Ethiopia's Rotaract Country Chair representative were able to attend, and they shared the news of Ethiopia being nominated and selected to be the host of RAS2019. I was sure, I wouldn't miss it this time round and to my surprise, I was part of the Organizing team. Preparation started from March and the team was a group of Rotaractors who had extensive experience with other programs and Rotaract leadership.
RAS 2019 planning meeting was added on my calendar and we meet every week on Tuesday, from 6:30 pm for the next 9 months until the summit took place. The team comprised of 8 individuals; who were responsible for main tasks of PR, Logistics and Sponsorship, Reporting, Treasurer, The RAS Chair and Team of the Program drafters. Every team member was part of the brainstorming session. The meeting were so focused to the level we held one of our meetings at the office with flipchart and projector!!! It was an exciting and stressful experience since registration was going on and we had to keep checking participants were from different countries.
I wouldn't want to pass this opportunity without mentioning how grateful I am for the experience; Thanks to the RAS 2019 Chair Tsegamlak Zerihun for inviting me to be part of the team; one Rotaract program where the whole team was ahead and working on their responsibilities. This team was excellent and sometimes we would discuss personal and professional issues which enriched my brain.
One week before the participants' arrival was the most stressful period. Guests were flying to Addis at different times and the team had to call out for assistance from Rotaract Volunteers to help with welcoming everyone at the airport. 146 Rotaractors from 13 countries were on their way from different cultures with different tastes.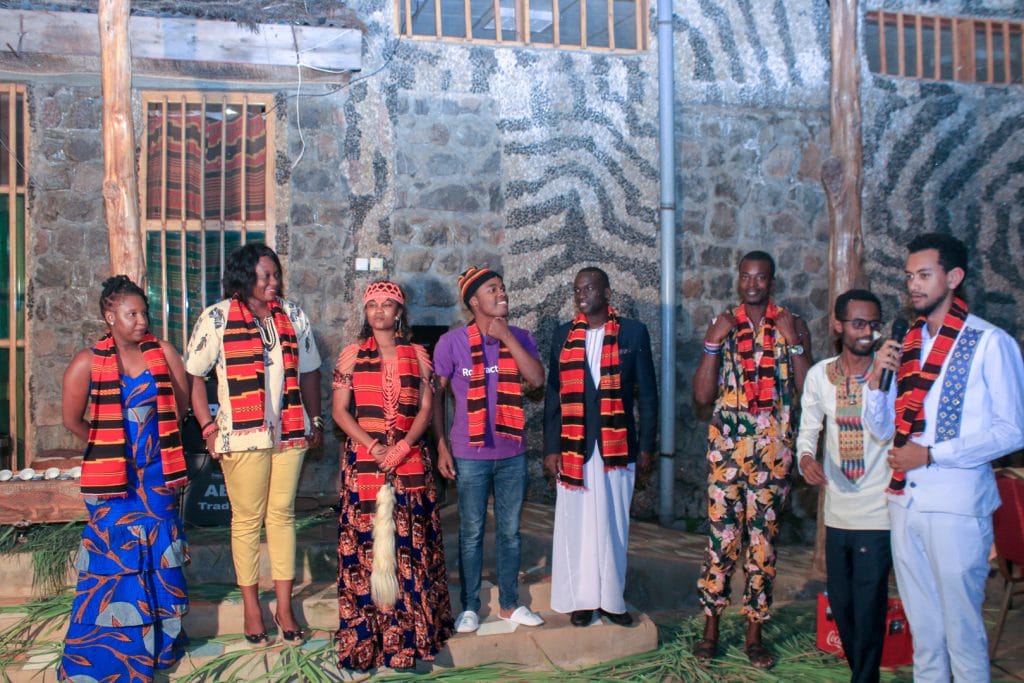 Sossi and I had to go one day early to Paradise Lodge in Arbaminch; Southern part. It was the first experience to travel that corner of Ethiopia. This is where the beauty of Rotaract comes to shine. Members of a recently chartered and vibrant club of Rotaract Arbaminch were our great support . From the time of arrival to escorting us to the lodge; to Joining us with the preparation of the accommodation, meeting hall and meal place ready for our guests.
The waiting was over. The Summit day was finally here!!!
Cloudy morning; I went out of the lodge for a run and came back to meditate and catch my breath to the mountain called 'Yeégzer dildiy' and greeneries across with Lake Abyata on the left and Chamo on the right.
Communication was going on until the guests arrived from Addis Ababa to Arbaminch. The same with warnings of "be prepared to welcome 140+ tired and exhausted guests". The Pressure was real.
By 2 pm, District 9212 Governor Joe Otin arrived at the venue. After an hour the three buses arrived at paradise lodge and guests started flowing in. A dancing group sponsored by the city administration dressed in a cultural dress of Wolaita started singing and dancing to the 'Gamo' music to welcome the guest.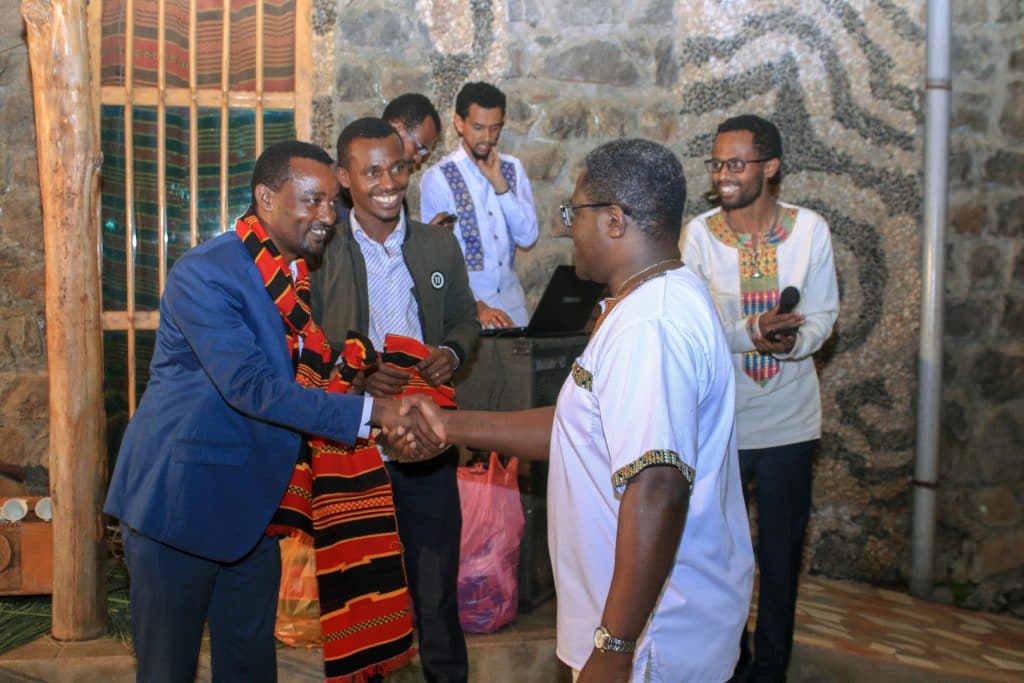 After 4 hours of allocating participants to their respected rooms, we went out to have dinner and that's how the Summit was officially opened. While everyone was enjoying their meal, Representative from the city administration delivered a welcome speech and gave a gift named 'Denguza' (A scarf with pattern of the city's culture) to DG 9212 Joseph Otin, the DRRs represented from Jakob Ssendawula (District 9211); Makazo Makomani (District 9210), Stella Elom (District 9102), Jaiyeola Constance (District 9110) and Samuel Karanja (District 9212) and Guest Rotaractors.
The Host country's DRR shared his remarks and the Summit was officially kicked off.
With PDRR Adam leading the Night of Art and Culture, all participants started to walk to the stage and do an introduction on their Attire. It makes me wonder, how diverse each country is and the beauty in all. And the party continues with the participants trying out the Ethiopian cultural dances and there was no sleep after that.
On the second day, the Summit training started with the National Anthem of Ethiopia led by Rotaractor Neftalem Biniam, Reciting the four-way test and the Rotary Grace. DG Joe shared inputs on Elevating our Leadership game as Rotaractors and influence our community with and the role of this Leadership to enhance the Rotary – Rotaract growth and partnership. A video was played straight from the RI Secretary on the Inclusion and Innovation progression in Rotary international continuing to a panel discussion; The Vice president of RI Yinka Babalola was present and shared on the topic of the current and Future of Rotaract and Rotary in Africa. Case studies were forwarded and discussed on how to create a lasting change with our professional and leadership development and most importantly on how to deliver a sustainable service project to our communities.
Fellowship time continued; where I got to meet Rotaractors from other districts and network while having dinner and enjoying the Safari theme night.
Saturday was up and it was the day where RAS participants took part in a community service project of Rotaract Arbaminch's. The group was divided into two and took a trip to town to plant seedlings at Arbaminch limat Primary School with 1-8th-grade classes and RAC Arbaminch. Members have been working with the Arbaminch university charity club to address the service. The 2nd School was Chamo Secondary school whereby Rac Arbaminch and AMU Charity together with the community painted 36 classrooms and are on the way of building 4 classrooms in the compound.
RI Vice President Yinka Joined and has put one seedling in his name at the school.
After we were done with the planting it was time to go for a visit to one of the sites in Arbaminch. On our way, I was networking and chatting with new Rotaractors about Arbaminch, Photography, Art, Music and our cultures and norms. We had our lunch enjoying the breathtaking scenery at the Dorze lodge. Participants were in groups enjoying each other's company. Our trip was cut short by rain and we had to go back the hotel.
On our way back, I get to sit with Emmanuel George who is the district PR for D9212 Rotaractors; sharing our Rotaract experience; how it changed us personally, the difference and similarity of clubs in Ethiopia and Kenya, what each side can adapt and learn from one another, How we have passed the tough situations during our leadership. How we have grown in return. Wisdom flowed. It was an insightful connection time.
While everyone was rocking the 80's Afro pool party feasting , we nominated and selected the next Host country which is Ghana and Yinka shared his insights with us.
Yinka alluded he attented the summit not because he was free but because it was a priority. Volunteerism isn't for those who have free time, It's not an activity you engage to when you are free. It's an engagement based on giving Priority to your personal life and the community which you are willing to serve.
I have met different Rotaractors through this summit that I have shared smiles, good times, new friends and professional linkages. Some of the participants extended their stay in Addis and were able to enjoy our 'buna' (Coffee), Join Fellowship coffee time hours of different Rotaract Clubs and Cook food of their own and share it with us the Ethiopians. It was a beautiful exchange exposure. Africa from Ethiopia, Kenya, Uganda, Tanzania, Zanzibar, Ghana, Nigeria, South Sudan, Malawi, Togo, Cameroon, Zambia, Zimbabwe was represented including one from Australia. Long Live Rotaract and It shall flourish in Africa.
I can't wait for RAS 2020 in Ghana.
As we have learned "WABEBE,….."
Article By; Netsanet Asmelash: Secretary | RAS 2019 – Membership Director | Rotaract in Ethiopia – IPP | Rotaract club of Finot